The one place you'll never need to leave.
Independent Living, Assisted Living, and Memory Care all under one roof.
At Tri-Cities Retirement, we are committed to providing all-inclusive, affordable care. We are a Medicaid-certified community, ensuring our residents will never need to worry about future affordability for the care they deserve. Whether you need meals and housekeeping services along with the security of having someone there or you need professional clinical care, we have the service and support you need.
Senior living built around you.
The care options you need to live the life you want.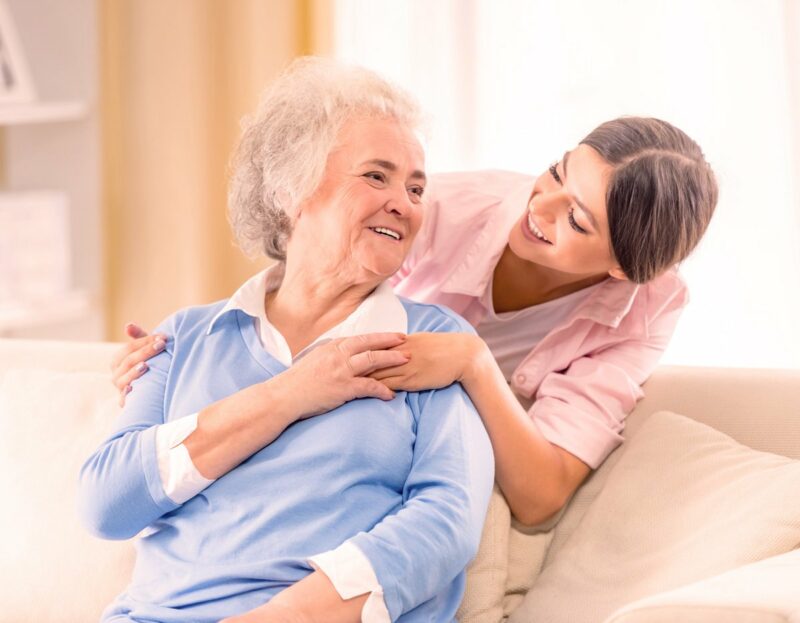 Assisted Living
Assisted living is a senior living option that provides individuals with independent, active living backed by our trained support staff, who are always available when needed. At Greenlake Senior Living communities, the services we offer can range from helping remind residents to take medications daily to offering assistance with the activities of daily life, such as bathing and getting dressed.
Services & Amenities
Everything you want from a community and much more.
Restaurant-style dining: Residents enjoy a dining experience with multiple entree options freshly prepared by a professional culinary team.
Maintenance-free living, including housekeeping, trash removal, and laundry services.
Apartment Choices: Residents can select from a number of living options, including private or companion apartments with various floor plans. Some units include furnishings. We also offer pet-friendly apartments in select plans.
Coordinated health care: We work alongside your healthcare team to provide timely and coordinated care between multiple physicians as needed.
On-site health care: On-site physical, speech, and occupational therapy visits, as well as regularly scheduled visits from local physicians, ensure your health is never neglected.
Diabetic Care: Our community has additional training and oversight to provide diabetic care for our insulin-dependent residents.
Secure Memory Care Neighborhood: Residents with advanced dementia or who no longer feel safe without consistent supervision have a specialized neighborhood to call home within the community. This area is overseen by specialized staffing with experience in dementia and Alzheimer's related diseases.
Emergency Response: Our apartments include a state-of-the-art medical alert and emergency response system.
Life Enrichment: Our community prioritizes whole-person wellness. Our Events and Activities Directors keep our communities vibrant with activities and events that speak to our residents' unique interests.
Gallery
We can tell you how extraordinary Tri-Cities Retirement is, but the best way is to see it yourself.
TESTIMONIALS
See what people like you are saying about our communities!
…In May 2021 my mom's dementia progressed to the point she needed to transfer to Tri-Cities Retirement Inn's Memory Care Unit. The difficult transition was made easier for both me and my mom because she was still surrounded by the familiar staff members – nurses, caregivers, custodial staff – who had tended to her needs while she lived in her own apartment.

I am pleased with my choice in assisted living facilities. Tri-Cities Retirement Inn was recommended to me by two of my friends. Let me be the one to recommend them to you!
We have already placed my dad into Tri-Cities Retirement Inn. They are really good to him. He has dementia, but he thinks the people are just amazing. He is a picky food person and they make sure that he likes whatever he is going to eat. They make sure he doesn't wander. I can call and ask how my dad is, what's going on and how he is reacting, and they will let me know. With Covid, we're doing the screen visits. They're very upfront and open. The workers that I have met that work there are super nice and really caring…
…The Tri-City Retirement Inn was a blessing that came at a time when care for my sister was beginning to take a toll on my quality of life. They have not only gotten her lifelong diabetes stabilized through diet and applied medical care to the point she is in the best condition she has been in years, but they also allowed me to return to a more rewarding lifestyle… On a scale of 1-10 for professional services provided by the Tri-City Retirement Inn for me and my sister I would give them an exuberant 10!!!
Get in Touch!
For more details on pricing and availability or to schedule a tour, call (509) 547-2466, or complete this contact us form, and our Community Relations Director will call you back within 24 hours of your inquiry.
Address:
2000 N 22nd Ave., Pasco, WA 99301
Email:
ed.tcri@greenlakeseniorliving.com
Phone:
(509) 547-2466
"(Required)" indicates required fields