A life with freedom and choice!
A Full, Happy Life
You'll feel like royalty at Royal Columbian Retirement Inn in Kennewick, WA.
While we want you to feel like royalty, you'll never be expected to pay royally. Our community is designed to give you multiple living options and a variety of friendships under one roof. Unlike a smaller community, at Royal Columbian, you will have many diverse opportunities for socialization and events. True to our mission, we are an affordable assisted living community that is Washington state Medicaid certified.
Senior living built around you.
The care options you need to live the life you want.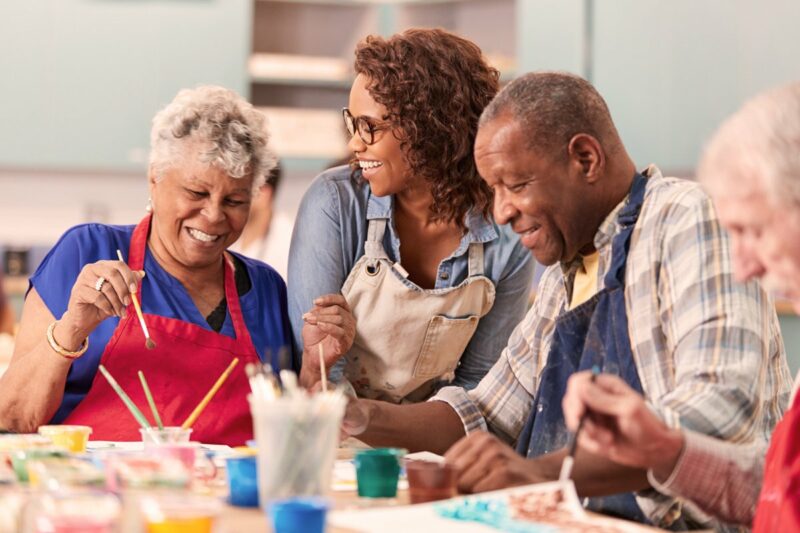 Assisted Living
Assisted living is a senior living option that provides individuals with independent, active living backed by our trained support staff, who are always available when needed. At Greenlake Senior Living communities, the services we offer can range from helping remind residents to take medications daily to offering assistance with the activities of daily life, such as bathing and getting dressed.
Services & Amenities
Everything you want from a community and much more.
Restaurant-style dining: Residents enjoy a dining experience with multiple entree options freshly prepared by a professional culinary team.
Maintenance-free living, including housekeeping, trash removal, and laundry services.
Coordinated health care: We work alongside your healthcare team to provide timely and coordinated care between multiple physicians as needed.
On-site health care: We offer on-site care that includes physical, speech, and occupational therapy visits as well as on-site visits from local physicians.
Emergency Response: Our apartments include a state-of-the-art medical alert and emergency response system.
Apartment Choices: Residents can select from a number of living options, including private or companion apartments with a variety of floor plans. Some units include furnishings, and we offer pet-friendly apartments in select plans.
Diabetic Care: Our community has additional training and oversight to provide diabetic care for our insulin-dependent residents.
Safety: Our secure environment is specially designed for resident safety and independence, created to be easy to navigate and prevent wandering off-site.
Life Enrichment: Our community prioritizes whole-body wellness. Our Events and Activities Directors keep our communities vibrant with activities and events that speak to our residents' unique interests.
Gallery
We can tell you how great Royal Columbian is, but the best way is to see it yourself.
TESTIMONIALS
See what people like you are saying about Royal Columbian.
My grandmother joined the royal columbian family 2 yrs before her passing, as did as many before her, and god bless them for their everyday loving care, it has changed me for the better, thank u for taking care of us all as a whole. To her last day every single person in her care team, kept her comfortable and her family comforted. Bless u all from the bottom of my ❤
My mother was a resident of Royal Columbian for 4 years and she had told me many times how good all of the staff there were to her. When she passed on Oct 9 they were very good to my daughter and myself. I can't thank the staff enough for the wonderful care that she got and the way we all were treated. Thank you again.
…Upon my first meeting with the staff at Royal Columbian, I knew this would become Mom's new home. The staff treats you as if you are family and always greets you with a smile. I can't say enough about the healthcare workers and all the staff who provide such good care to all the residents. The residents are the number one priority at Royal Columbian. Mom has adjusted so well and now calls Royal Columbian 'home'.
Finding an assisted living home for Mom was scary and a challenge. Once we found Royal Columbian, our nerves were settled. The staff are outstanding, wonderful folks who take time to answer any questions and concerns and have now become a part of our lives. We couldn't be happier for Mom as we know she is being well taken care of yet maintaining her independence. Most importantly, Mom was allowed to have her fur baby live with her and that sealed the deal! I highly recommend Royal Columbian Senior Living for any new family needing that safety and security for their loved ones. We are blessed to have found a caring and loving home for Mom.
Thank you for all you have done for my family. Your compassion and that of your staff will long be remembered. Your community is so welcoming and the most like home I have found.
Get in Touch!
For more details on pricing and availability or to schedule a tour, call (509) 783-1628, or complete this contact us form, and our Community Relations Director will call you back within 24 hours of your inquiry.
Address:
5615 W Umatilla Ave, Kennewick, WA 99336
Email:
ed.royal@greenlakeseniorliving.com
Phone:
(509) 783-1628
"*" indicates required fields